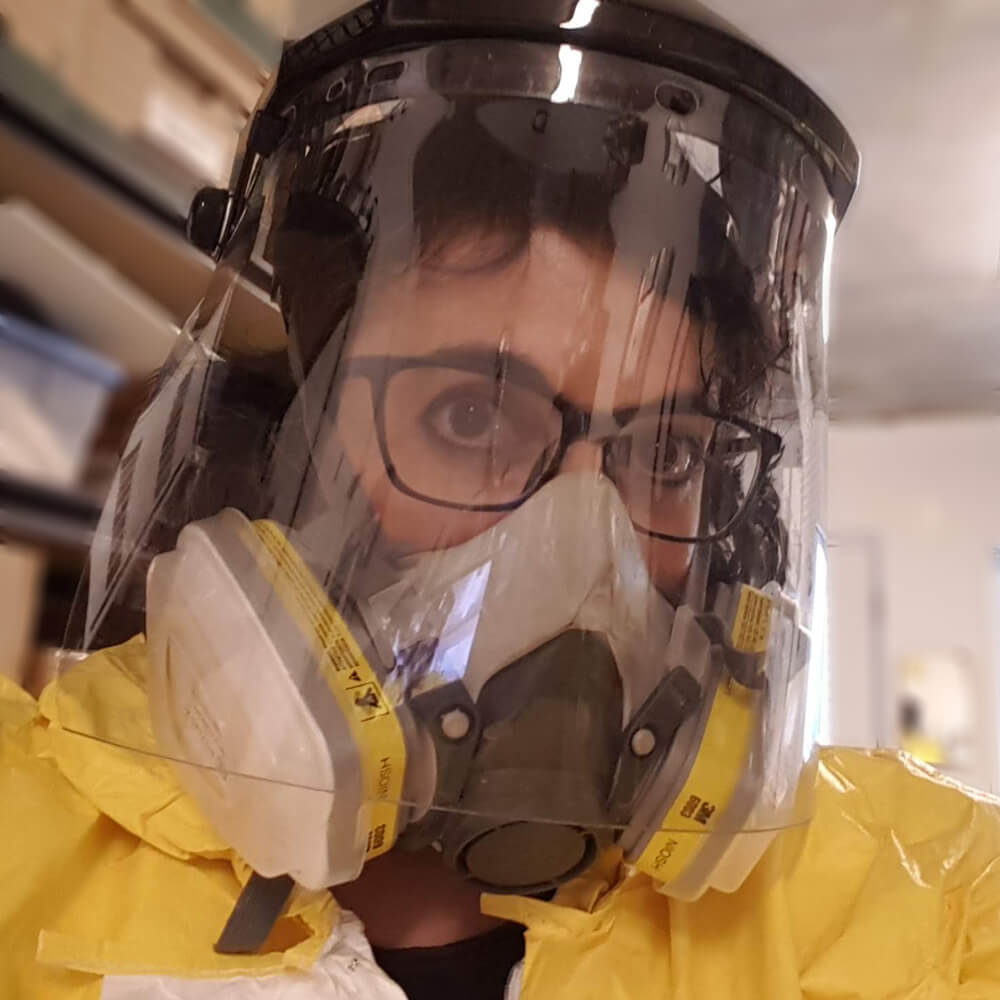 STATEMENT
I enjoy telling stories and wanted to be a writer, but I struggle with written narrative. I found my voice once I began substituting materials for words, using mixed media to create artworks that are essentially condensed narratives. In them I blend a modernist focus on material and process with inspirations from contemporary design and popular culture – everything from music and film to literature, architecture, fashion, and food.
Most of my pieces are abstracted versions of images from my own photography. I digitally manipulate them to minimize the visual information they contain, then recreate the results with other media. Selecting materials and developing the process for creating a work are as important to me as the outcome. I approach each project scientifically, documenting the steps and making samples, studies, or maquettes before beginning a final version. This documentation, along with the original image, sketches, research, and other source material, becomes part of a creation archive I keep for each work.
Many of my pieces are made of sheet metal I etch in studio, resulting in images that are cut into the surface but are essentially two-dimensional. Recently I've been interested in creating sculptural, organic forms as well. Returning to my roots as a propmaker for low budget films, I've been constructing pieces with whatever is on hand – sculpting, shaping, and layering repurposed and discarded materials mixed with other media. This has resulted in a series of new processes that expand my practice in new ways.
BIO
Gaylia Wagner is a mixed media artist living and working in Washington, DC. She holds a BFA in Product Design with a minor in Art History from Parsons School of Design, and a BA in English Literature from Virginia Commonwealth University.
In 2022 she participated in her first two-person exhibition, and her piece Warp + Weft (west window, February 2020) was purchased by the DC Commission on the Arts and Humanities for its Art Bank Collection.
Currently she is working on a series of insectoid puppets commissioned for a theatrical production and practicing Spanish in preparation for an electro-etching residency in Gran Canaria, Spain scheduled for fall of 2023.
SELECTED EXHIBITIONS
2023

Sequence, Touchstone Gallery, Washington, DC (jurors: Maleke Glee, Lauren Leving, Roddy Schrock)

2022

DC Art Now 2022, DC Commission on the Arts and Humanities' I Street Gallery, Washington, DC

Two-Person Exhibition, Fabricating Order, Howard County Center for the Arts, Ellicott City, MD (with artist Susan Hensel)

Wallmountables 2022, DC Arts Center, Washington, DC

Sculpture NOW 2022, Harmony Hall Arts Center, Fort Washington, MD (juror: Fitsum Shebeshe)

2021

8th Annual Abstract Catalyst, Verum Ultimum Art Gallery, Portland, OR (online, catalogue)

1460 Wallmountables 2021, DC Arts Center, Washington, DC

Tamar Hendel Gallery Juried Exhibition 2021, Tamar Hendel Gallery, Silver Spring, MD (online)

2020

Newly Juried Artists 2020 Group Exhibition, Torpedo Factory Artists @ Mosaic, Fairfax, VA

2019

GoggleWorks 13th Annual Juried Exhibition, GoggleWorks Center for the Arts, Reading, PA

Nuance: Craftsmanship, Imagination, and Innovation, Peters Valley School of Craft, Layton, NJ (catalogue)

Lemonade Stand Small Works Juried Exhibit, Lemonade Stand Gallery, Key West, FL

Five Points Small Works, Five Points Gallery, Torrington, CT

40th Annual Juried Art Exhibition, Monmouth Museum, Lincroft, NJ

2016

46th Annual Labor Day Art Show, Glen Echo Park, Glen Echo, MD

1460 Wallmountables 2016, DC Arts Center, Washington, DC
AWARDS / GRANTS / RESIDENCIES
| | |
| --- | --- |
| 2023 | Residency (forthcoming), Non-toxic electro-etching workshop of Alfonso Crujera, Gran Canaria, Spain |
| 2023 | Grantee, DC Commission on the Arts and Humanities Art Bank Program, Washington, DC |
| 2019 – 2023 | Grantee, DC Commission on the Arts and Humanities Fellowship Program, Washington, DC |
| 2021, 2022 | Grantee, DC Commission on the Arts and Humanities Relief & Recovery Fund, Washington, DC |
| 2021 | Semi-finalist, Tamar Hendel Gallery Juried Exhibition 2021, Silver Spring, MD |
| 2020 | Grantee, CAH-NEA Cares Act, Washington, DC |
COMMISSIONS
| | |
| --- | --- |
| 2022 – 2023 | Commissioned to produce a collection of eight insectoid puppets for a theatrical production, Washington, DC (currently in development) |
| 2017 | Commissioned to produce 50 pieces of original art by the City of Alexandria Office of the Arts for their Community Supported Art (CSA) subscription box, Alexandria, VA |
COLLECTIONS
District of Columbia Commission on the Arts and Humanities Art Bank
Goulston & Storrs, Washington, DC
PROFESSIONAL AFFILIATIONS
Washington Sculptors Group
Member Artist, District of Columbia Arts Center, Washington, DC
EDUCATION
Parsons School of Design, New York, NY, BFA Product Design, Art History minor
Virginia Commonwealth University, Richmond, VA, BA English Literature